Compile Existing Data
Existing climate, land-use, geologic (geologic maps, well logs, and geophysical logs), hydrologic (streamflow, water levels, and spring locations), water-quality, and geodetic data will be compiled and assembled into a Geographic Information System (GIS) using ARCINFO. Although much of the development of the GIS will occur early in the study the GIS will be used, updated, and revised throughout the study. Hydrologic and water-quality data will be compiled and integrated into a regional synthesis of water resources.
Land Use maps for 1992 from the national Land Cover Digital Data (U.S. Geological Survey, 1999)
U.S. Geological Survey, 1999, National land cover digital data, accessed April 16, 2009, at http://landcover.usgs.gov/landcoverdata.php with classification of land use established with the reference
Anderson, J.R., Hardy, E.E., Roach, J.T., and Witmer, R.E., 1976, A land use and land cover classification system for use with remote sensor data: U.S. Geological Survey Professional Paper 964, 28 p.
Land use for 2000 from California Department of Water Resources, (2000).
Color photo image from U.S. Department of Agriculture, National Agriculture Imagery Program, 1 meter resolution, 2005.
Collect New Data
Refining the geohydrologic framework of the valley, as well as developing new geologic and hydrologic models, will require the collection of depth-dependent or aquifer dependent geohydrologic and geochemical data. The existing monitoring network maintained by Santa Barbara County and the USGS will be enhanced during the study period and be used to collect temporal and spatial water-level and water-quality data. Streamflow data will be collected at selected streams to help determine the recharge characteristics of the valley. Geodetic data will be collected to determine if subsidence is occurring in the valley.
Maps showing locations of wells with selected hydrographs of historical groundwater levels. Groundwater levels show historical groundwater-level declines of up to 300 ft in the main parts of Cuyama valley to about 10 ft in the Ventucopa area.
Land Subsidence Network
Map shows preliminary Interferometric Synthethic Apeture Radar (InSAR) image of Cuyama Valley and related continuous GPS measurements at Cuyama Valley High School from the Plate Boundary Observatory site (PBO). The changes in color overlayed on the map indicate the relative amount of vertical movement of the land surface between August and March, 1997.
The above graph shows the northerly, easterly, and vertical movement of the PBO continuous GPS site near Cuyama Valley High School (CUHS). These data indicate lateral movement from tectonic forces of about 0.14 feet per year in a direction of 70 degrees West of North and a vertical displacement downward (land subsidence) of about 0.26 ft in nine years (0.03 feet per year) Selected seasonal and interannual InSAR images and the CORS site will be used to estimate monitor recent land subsidence. The CUHS site will also be used to reference the estimates of vertical deformation from InSAR images and will be used to compare measured and simulated subsidence from the hydrologic model. The data from the CUHS site combined with continuous groundwater level data from the Cuyama Valley High School water-supply well will also provide estimates of subsidence properties needed to simulate land subsidence with the valley-wide hydrologic model. (SOPAC web site image last accessed 10/06/2009).
New Groundwater Monitoring
The USGS has drilled and installed three multiple-well monitoring sites that will provide depth-specific data on groundwater levels, geophysical data on the alluvial deposits, hydrologic properties, water quality, and water chemistry from selected water bearing layers within the aquifer system of Cuyama Valley. The USGS Research Drilling operations provides detailed geologic, geophysical, and hydrologic information that cannot be obtained from conventional water-supply wells. The areal photo shows the multiple-well site along Kirschenmann Road in proximity to the Cuyama River and a nearby agricultural supply well where it can help us observe the possible interaction with groundwater recharge from flood flows and from pumpage for irrigation.
Multiple-well monitoring site at Kirschenmann Road drilled with Mud Rotary USGS Research Drilling Rig. Four wells installed at different depths to give depth-specific information about water levels, water quality, and water chemistry that are enclosed in a secure vault that will allow the observation of potential effects from groundwater pumpage for irrigation and potential recharge from flood flows along the adjacent Cuyama River near Cuyama, California.
Analyze Water Availability
The hydrologic model will be used to evaluate how selected water-use and climate scenarios affect the availability of ground water in the Cuyama Valley. Potential water-use scenarios include changes in cropping patterns, increased urbanization, and artificial recharge. The USGS will meet with water managers and other stakeholders to help define the water-use and climate scenarios that will be evaluated for this study. The assessment of these scenarios will provide the stakeholders with a clearer picture of the limits of the resources, the connection between the supply and demand components of water use, and the potential availability of the water resources under current and alternative climatic and cultural water-use scenarios.
Of particular importance will be using the hydrologic model to analyze changes in groundwater flow and groundwater storage in different hydrologic regions of the Cuyama Valley caused by current and projected groundwater use. The geohydrologic and hydrologic models will be used to estimate the volume of water resources that have been depleted, still remain, and may be unusable owing to poor water quality.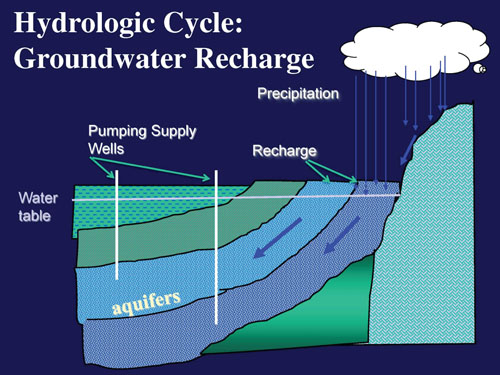 Hydrologic cycle--Data collected on the three-dimensional character of the aquifer flow and chemistry will help develop a greater understanding of the groundwater processes in the Cuyama Valley and evaluate the potential hydrologic effects of future groundwater withdrawals on different parts of the valley. The hydrologic cycle shown here demonstrates how precipitation (rain and snow) in the mountains recharges the aquifer system, moves down gradient through the aquifers, and then is pumped from long-screened supply wells.
Communicate Results
Meetings
(a) TownHall meetings in Cuyama with local residents, public officials, and business leaders
(b) Scientific meetings to present results from new analysis and new tools to scientific community as a form of peer review and communication
This Web Site
Provide information for all levels of interest in the geology and water resources of Cuyama Valley
Reports
Provide documentation to the residents, public officials, and business leaders that describe the climatic, geologic, and hydrologic factors that affect the use, movement, quality, and availability of water resources in Cuyama Valley.